The 45th HSR Mitty 2023 - Historic Sports Car Racing
The HSR Mitty a "Can't Miss" Event at Michelin Raceway Road Atlanta.
One of the oldest historic and vintage races in the U.S. returns to Michelin Raceway Road Atlanta for its 45th year in 2023! The Historic Sportscar Racing (HSR) Mitty at Michelin Raceway Road Atlanta begins another decade as a can't-miss event for race fans and competitors alike.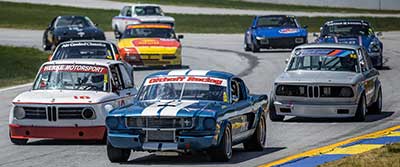 The 45th HSR Mitty on-track schedule is packed with 10 feature races and non-stop sprints, but an ample lineup of off-track activity and attractions are also part of this one-of-a-kind automotive celebration.
Club corrals fill the Michelin Raceway infield, camping is available at every level, vendors offer amazing finds and hospitality is available for all. A limited number of parade and touring lap sessions are also scheduled, offering a rare chance to drive your own car on the legendary Michelin Raceway Road Atlanta circuit.
Race car run groups feature everything from nearly every type of sports car from the past 70 years to Stock Cars and open-wheel formula and Indy cars.